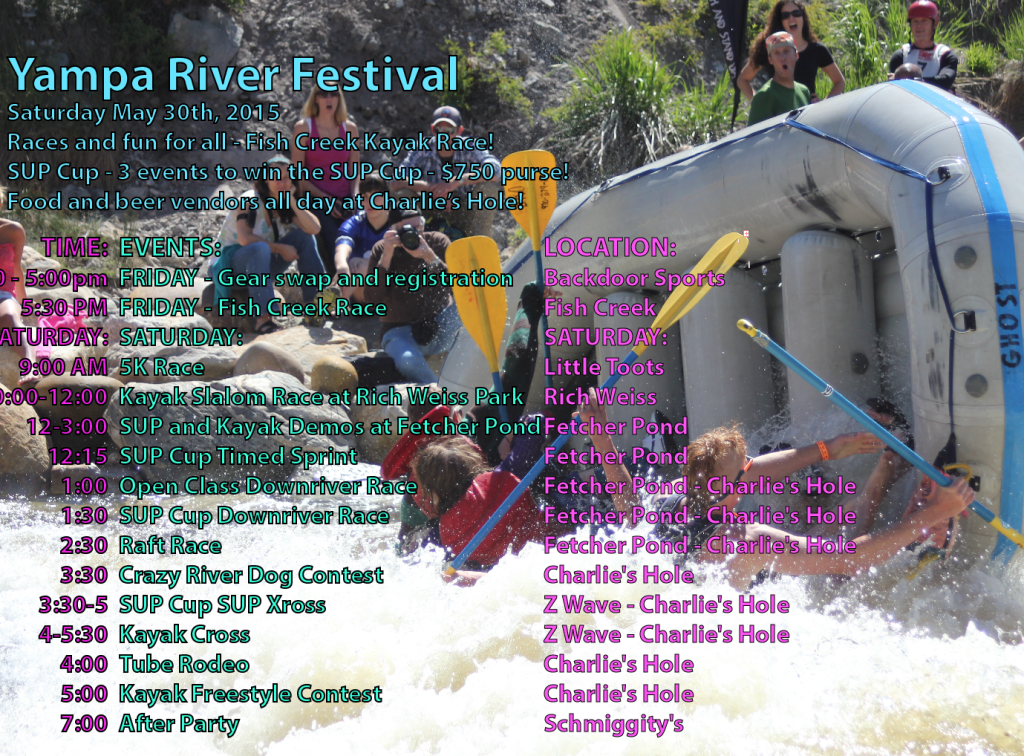 We are proud to officially announce our 2015 Yampa River Festival calendar of events.  This will be the 35th annual event for the Yampa River Festival.  The main events will be Saturday the 30th of May.  Check out calendar below for more specific details about the Yampa River Festival.
Keep in mind there is a Water Week going on surrounding the Festival with multiple events and gatherings to fill you up with all things Yampa River.  Check it out and see you there:
Tuesday, May 26 – 5:30pm – Yampa Valley Sustainability Council is hosting a presentation by local water professionals Jay Gallagher and Jackie Brown where they will update us all on the Colorado Water Plan.  Event is at McKnights Irish Pub and Loft
Wednesday, May 27 – 5:00 pm – Conservation Colorado is hosting a Yampa River talk at Butcherknife Brewery.
Thursday, May 28 – 6:00-9:15 pm – Leadership Steamboat and the Friends of the Yampa are hosting the Yampa "Catch the Drift" launch for river awareness at the Chief Theater.
Saturday, May 29 – All day – 25th annual Yampa River Festival (see poster below)
Wednesday, June 3 – 7:00pm – Bud Werner Memorial Library and the Friends of the Yampa are hosting a showing of the award winning movie the Return of the River and the annual State of the Yampa address.