CONTACT: kent@steamboatpowdercats.com
FOR IMMEDIATE RELEASE
May 18, 2012
Friends of the Yampa Hosts 32nd Annual Yampa River Fest May 26-28
Culminates with Paddling Life Pro Invitational Mon. May 28
Steamboat Springs, CO (May 18, 2012): The Friends of the Yampa announces the 32nd Annual Yampa River Festival May 26-28 in Steamboat Springs, Colo., culminating with the Paddling Life Pro Invitational on Memorial Day, Monday, May 28.
Designed to raise awareness for and protect the 270-mile Yampa River in northwest Colorado, the last remaining major free flowing river in the seven-state Colorado River basin, the event promises a fun-filled weekend for the whole family, with slalom and downriver races, a kids activity zone, freestyle competition, dog events and more. The event kicks off with a registration party at Backdoor Sports in downtown Steamboat Friday evening.
After a 9 a.m. running race, the river action starts Saturday with a downriver race at 11 a.m., followed by a stand-up paddleboard race at Fetcher Pond and raft race. This is all followed by the popular Crazy River Dog contest, tube rodeo and freestyle kayak contest downtown. The action continues with a tube race (BYOT/inflatable, no paddle) at 5 p.m. from Rich Weiss Park to the finish line at Sweetwater Grill, where the annual River Fest party begins, featuring food, river games (horseshoe contest, ammo-can-tug-of-war, washers and more), raffle and music by reggae phenom Djate. The festival continues Sunday with slalom races at Dr. Rich Weiss Park at 10 a.m.
On Monday, some of the best kayakers in the world descend upon town for the seventh annual Paddling Life Open, brought to you by the City of Steamboat, Rocky Mountain Remedies, Kokatat, Rhino Rack and more. The event features a Class IV-V race down tumultuous Fish Creek followed by a freestyle contest downtown, with the best combined score winning. That evening, the festivities continue with a post party at Carl's Tavern.
This year's river festival will also be part of the new $5,000 REP Whitewater Challenge, a point series co-sponsored by Bomber Gear held at existing events at river parks designed by Boulder, Colo's Recreation Engineering & Planning.
"It promises to be a great weekend," says Friends of the Yampa president Ken Brenner, recently appointed to the Upper Yampa Water Conservancy District board. "It's a great way to bring awareness to the river in our back yard, which serves so many vital interests."

Competitors: Click here to register for the events
Exhibitors: Click here to sign-up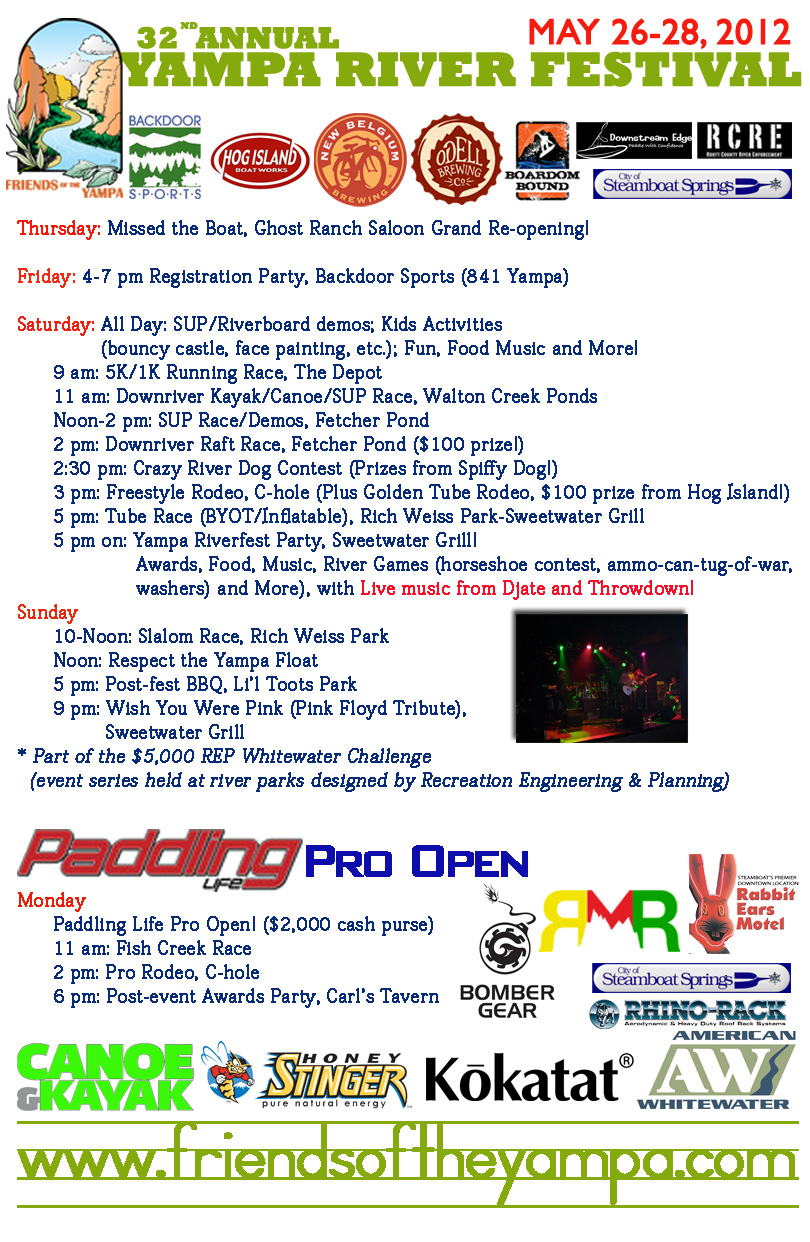 Competitors: Click here to register for the events
Exhibitors: Click here to sign-up