Dates to remember: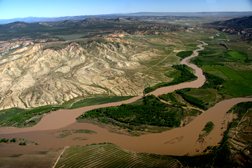 This Monday, August 22 from 9:00 am – 12:00 we are hosting our first RIVER CLEAN UP of the season. All Friends are invited to help in picking up after a busy season on the river. The Yampain town will be our focus. Meet at Backdoor Sports. Wear adequate river shoes and attire. We'll line everyone up and shuttle around to clean up from Walton Creek Road to the James BrownBridge. Post pizza party at Backdoor with small raffle and freebies. See you there.
Tusday, August 23 – Cross Mountain Canyon is running! When you thought the river has dropped to low, look what happens? The Endangered Fish Recovery Program will be releasing water out of Elkhead Reservoir for scientific purposes. They will be adding ~350 cfs into the system, making nearly 1000 cfs or so in Cross. The flows will run from this Saturday to Tuesday, with many FOY menmbers planning a kayaking/rafting mission on Tuesday. Meet at Backdoor Sports around 7:30 on Tuesday morning. Read the press release here.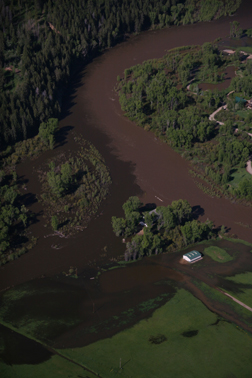 Friday, September 16th is "The Take Out" – Friends of the Yampa is teaming up with our local partners at Colorado Environmental Coalition and The Wilderness Society to put on an end of the river season pig roast and BBQ spectacular. We'll be hosting the party at Olympian Hall at Howelsen Hil and there will be plenty of food, drinks, music and door prizes for all who attend. So keep your eyes peeled for further information and announcements coming in the near future.
Friday, September 23rd will be our next RIVER CLEAN UP. This is the one where the Yampa Valley Science School as well as the CMC Boating Club participates. 9:00 – 12:00 again and meet at Backdoor with pizza party afterward. We typically have nearly 100 8th grade students and 20+ from CMC so it is a great one for you to be involved with as well.
Friday, November 18 – FOY's annual BIG SNOW DANCE party and fundraiser. This will be hosted once again at the Sweetwater Grill with a similar format to our event last season – dinner, silent auction, band, big party. We are accepting all offers for help in organizing for this event. Please let us know if you have any silent auction donation items and volunteer time/ideas you can lend us, thanks!
Call Pete at Backdoor Sports (879-6249) for additional information or email Kent here.
FOY Update of Ongoing Activities
It's been a huge water year and one that any Friend of the Yampa would register as EPIC! Here are a few of the things we've been up to since we last connected:
Hot Routt Music Festival – Thank you to all that came out for this event. FOY volunteers helped to set up, slinging beers, working the front entry and keep the vibe real. We generated a few dollars as the sponsoring non-profit for the event and thanks to the folks from Missed the Boat who included us.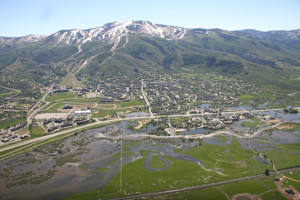 Yampa River Awareness Project – Yampa Canyon June float – FOY organized a float down Yampa Canyon for this second phase of YRAP. We partnered with Adrift Adventures out of Vernal and took down 20 river advocates to engage and document the Yampa at flooding flows. We spent 5 days during peak water where the Yampa hovered around 24,000 cfs and at the confluence of the Green the river was raging at 33,000 cfs. Beyond the on water experience we filmed interviews for the second phase of YRAP and hosted great dialogue between the participants. We had folks attend from FOY, YRAP, the Wilderness Society, Colorado River District, The Nature Conservancy, Upper Yampa Water Conservancy District, Colorado Water Conservation Board, American Whitewater, American Rivers, Adrift Adventures, Oars/Hatch, Yampa/White/Green basin roundtable, Paddling Life, Colorado Public Radio, Denver Post and the Mountain Gazette. Listen to the NPR piece here, read the DP article here and the MG article here.
Yampa River Structures Project has approval with Yampa/White/Green Roundtable for $50,000 – We are working towards a $100,000 project on the Yampa in downtown Steamboat Springs from Charlie's Hole up stream to the A-Hole. We have a final date in September with the Colorado Water Conservation Board to get the ultimate approval for this large grant and think we have everything lined up. This Structures Project is phase one of many to come that will help satisfy the Yampa River Structures Master Plan. Please help us in anyway with additional fundraising efforts today and in the future regarding this opportunity. Email Kent if you have questions, ideas or money to give!
Application sent in for Yampa River Watershed Plan – in partnership with local river advocate and water specialist Kelley Bedell, FOY recently sponsored a concept paper that would secure 319-Funding Program dollars to help build a comprehensive Yampa River Watershed Plan. If the concept is accepted, this will be one of FOY's most indepth endeavors and we very excited about the opportunity to help fine tune the Yampa basins vision for years to come.
Green River fishing float trip with Denver Post writer Scott Willoughby – FOY board members Johnny St. John and Soren Jesperson spent a few days in mid-August floating and fishing the amazing resource that is the Green River tail water of Flaming Gorge. Read Scott's article in theDenver Post here.
FOY partners with Rig to Flip: Dispatches from the Range – Rig to Flip organizer Cody Perry has been utilzing Facebook to keep folks up to date with Yampa River news and other associated river materials. Check out his FB page here and sign on to get the updates from the Range. He also is planning on putting together a short film for our YRAP efforts.
FOY participates in America's Great Outdoors coordinating efforts – The Yampa River was identified as one of 3 locations in Colorado that will be the focus of President Obama and Secretary of the Interior Salazar's America Great Outdoors Initiative. In July, FOY board members spent an afternoon with the Secretary at the State Capital and since then have kept active in helping coordinate efforts with an ad-hoc group that will spearhead whatever comes from this AGO process.
Cross Mountain Festival June 23rd – FOY helped organize a very successful, adrenaline rich weekend paddling event down Cross Mountain Canyon at the end of July. Over 100 people showed up over the 2 day throw down. The river was running at a perfect 1,200 cfs. The sun was huge overhead and the moon was full. A big thanks to the crew at Blue Sky West for organizing all the rafters. It was a great time on the river.
Enough for now friend.
Please come out this Monday for our first river clean up of the season. Remember meet at Backdoor Sports at 9:00 am!