The Yampa River Pumpback, a.k.a. Yampa Pumpback, a.k.a. Yampa Diversion, a.k.a. Multi-Basin Water Supply Investigation, a.k.a. Yampa Straw, a.k.a. Maybell Pump back, a.k.a. Yampa River Pipeline Project, or whatever you wish to call it, is a study that the Northern Colorado Water Conservancy District proposed and is one that is gaining strength in Colorado as a project that could provide for our water supply into the next century.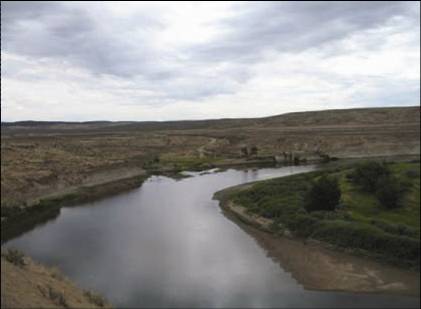 In a nutshell, the Yampa River Pumpback will divert 2,000 c.f.s of Yampa River water near Maybell Colorado. Initial storage of this water will be in a 500,000 acre foot (large than Lake Granby) reservoir near Maybell and then be pumped via pipeline and tunnel approximately 250 miles to another reservoir near Ft. Collins. This trans basin diversion for the 21st Century will cost anywhere from 3 to 5 Billion dollars and will help solve the municipal and agricultural water demand issues in the Front Range.
This pumpback project should drive you to become more educated and active in Colorado and the arid West's most basic problem, one of water supply and our water use into this next Century. As populations grow in Colorado, we will need more water supply, especially in the Front Range, where suburbia is sprawling out of control with no end in sight.
But, at what expense will we help drive the unsustainable population growth of the Front Range of Colorado?
Want to learn more?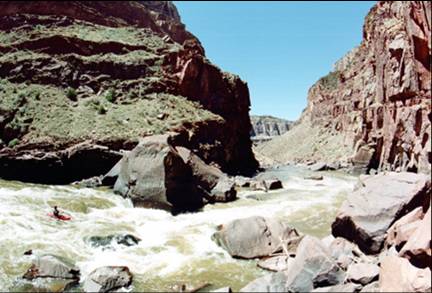 A kayaker enters into the first rapid in Cross Mountain Canyon – the Osterizer, a.k.a. Mammoth Falls.Today, it seems that the expense will be to tap into the Yampa River which is the last, the largest and the longest remaining tributary of the Colorado River that remains in its free-flowing state. The Yampa is a dinosaur of a river with a natural hydrograph that support endangered species, forests and ecosystems that are dependent on the non-consumptive flows and beneficial uses of keeping water flowing in our rivers.
If this proposal becomes a reality, the Yampa River will lose it's ability to naturally function. The ripple effect which will occur to the river, it's canyons, the ecosystem, environment, it's recreation and our culture will be devastating. We in the upper Colorado community will lose one of our most impressive elements of our river system. The non-consumptive, beneficial uses of Yampa River water for the Yampa River should remain in the river for the use of the fish, the plants, the beaches, the rafters, kayakers and our future generations so that they too can have experiences on a river that is more or less, unaffected by man in our pursuit to capture, divert and pumpback the rivers waters.
Unfortunately for us, even if the Yampa River Pumpback becomes reality, this pumpback will only be a stop gap, a band aid to our greater problem if we continue to use water like we do today. Our generation in the next century will have to find the next great resource for its water supply unless we do something soon or else there will be no free flowing rivers remaining in Colorado, no excess water flowing for the benefit of non-consumptive uses.
Isn't our water ethic in need of tweaking? Do we not have the ability to conserve water and evolve our water uses for agriculture and urban land use and preserve the important flows of our rivers?
Links to online information regarding the Yampa River Pumpback: