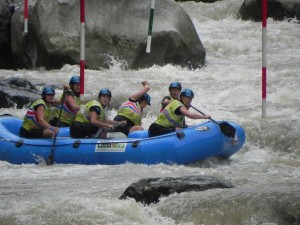 When the 2011 World Rafting Championships wrapped up Monday, Oct. 10, on Costa Rica's Pacuare River, Steamboat Springs local Sarah Hamilton was there every stroke of the way to help propel her U.S. Teva Women's Team to a seventh-place overall showing.
"We didn't do as well as we had hoped to, but it was a great event," said Hamilton, who joined the team last fall. "We were in a position to win up until the last day's downriver event."
In all, 29 men's teams and 19 women's teams from 32 different countries gathered in Turrialba, Costa Rica, for the  event, which drew the world's best rafters to the Pacuare for the first time since the Camel International Whitewater Challenge in 1998.
The U.S. Teva Women's Team rode a strong fourth-place finish in the opening day's sprint event to a seventh-place finish in the head-to-head competition. The team then earned a fifth-place showing in the slalom, leaving it overall title contention heading into Monday's Class IV-V downriver race. It finished sixth on the technical, boulder-strewn course, earning the team a seventh-place ranking overall.
The Czech Republic won the women's division, followed by Japan and the Netherlands. The U.S. Teva Men's Team, whose members hail from the Vail area, also finished seventh overall.
The women's team consists of Hamilton, captain Jess Mason, Molly Etters, Ronni Malson, Brooke Magstadt, Misty Cumings and Karah Frizzle, all from Colorado.
"We did pretty well all in all, but we haven't trained together all that long compared to some of the other teams," said Hamilton, who stayed in shape this summer paddling the Yampa River and training with her team on the Eagle River and Gore Canyon of the Colorado River. "Japan is fully sponsored, so they're a strong team, and so are the Czechs."
"Both the U.S. men's and women's teams are very good," added Rafael Gallo, president of host outfitter Rios Tropicales and the International Rafting Federation. "Colorado has a lot of similar rivers to the Pacuare. Any number of teams could have won."
For Hamilton, it was straight from padding down the river to walking down the aisle; she married long-time local Dan Piano at a beachside wedding in Costa Rica four days later.
Results
Men Overall
1 Japan
2 Czech Republic
3 Slovenia
4 Brazil
5 Chile
7 USA
Women Overall
1 Czech Republic
2 Japan
3 Netherlands
4 New Zealand
5 Great Britain
7 USA
U.S. Team Results
Men: Sprint: 9th; Head-to-head: 5th; Slalom: 9th; Downriver: 7th
Women: Sprint: 4th; Head-to-head: 7th; Slalom: 5th; Downriver: 6th