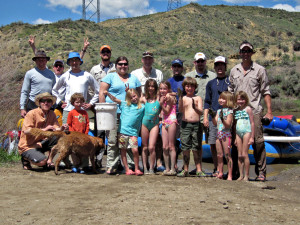 Kicking off the record-setting runoff season on the Yampa, Friends of the Yampa participated in a familiarization float on the Little Yampa, Duffy and Juniper canyon sections of the Yampa May 13-15, to study and discuss the section's recently approved eligibility for Wild & Scenic status.
"It was a great way to see that section of river," says trip organizer and FOY board member Soren Jespersen, Northwest Colorado Wildlands Coordinator for The Wilderness Society. "The weather was great and it was a great opportunity to both see the section and discuss its wilderness attributes."
Included on the 52-mile, three-day trip were Luke Schafer, West Slope Coordinator for the Colorado Environmental Coalition; Becky Long, Water Caucus Coordinator for the Colorado Environmental Coalition; Ken Brenner, former Steamboat Springs City Council president, Board Member of the Upper Yampa Water Conservancy District and FOY president; Aaron Kindle, Colorado Field Coordinator for Trout Unlimited; Johnny St. John, FOY board member and owner of HOG Island Boatworks; FOY board member and river advocate Kent Vertrees; Dave Goudy, co-owner of The Creek Company; and Paddling Life founder and FOY board member Eugene Buchanan. Also along: seven kids, ages 5 – 8, providing ample testament to the stretch's family friendliness for floating.
Cinematographer Vertrees also used the trip to garner footage for FOY's upcoming Yampa River Awareness Project documentary film, assessing everything from the watershed's water right issues to environmental concerns. "It was great to be able to some footage and interviews in that setting," he says. "It's a beautiful stretch right in our back yard that often gets overlooked. We got some great scenic shots, interviews with Becky and Luke, and other footage for including that section in the film."
The trip even offered a dose of adrenaline with the 9,000 cfs navigation of the diversion dam in Juniper Canyon, a Class III-IV rapid at that level.
[nggallery id=4]