A big thanks to all those who helped out with the Steamboat Springs Yampa River Clean up organized by the Friends of the Yampa. With over 100 people of all ages cleaning up, the river and the riparian habitat in downtown Steamboat Springs is refreshed once again.
A big thanks to the Yampa Valley Science School and Colorado Mountain Colleges Paddling Club for stepping up and attending this seasons clean up.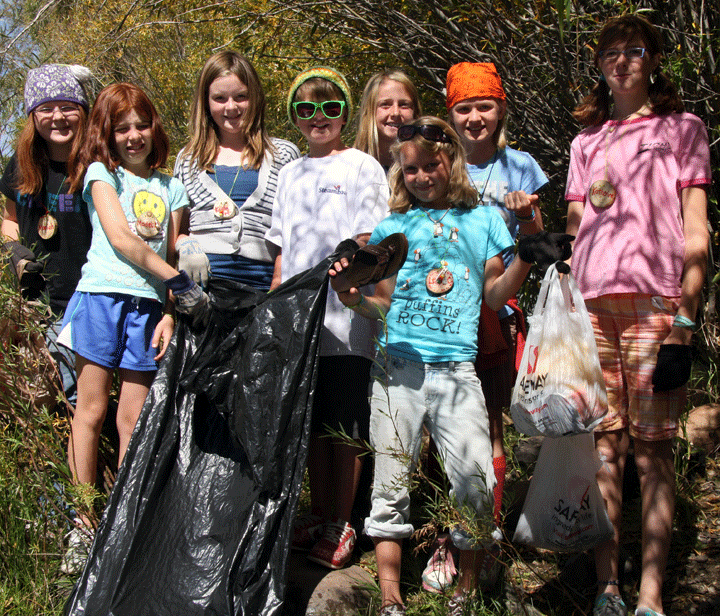 2010 Yampa River Festival
This year marks the 30th anniversary of the Yampa River Festival. The 2010 Yampa River Festival will be held on Memorial Day Weekend with events on Saturday, Sunday and Monday, the 28th – 30th. See details on poster below.
June 3, 2010 update:- What a great weekend we had for our 30th Annual Yampa River Festival.
Here is a link to some images from the 2010 Yampa River Festival:
[nggallery id=1]
Started in 1971 by several Steamboat locals, the event has grown to national recognition drawing not only local competitors but those from all over U.S.A. The festival includes several boating events including kayak rodeo's, kayak slalom, a raft race, tubing rodeo, a river board demonstration and the undisputed crowd favorite, the Crazy River Dog contest. There is also food and water sport vendors and River Fiesta parties during the evening.
The Friends of the Yampa partnered in 2008 with the folks from Paddling Life to combine the River Fest with PL's Paddling Life Invitational which is held on the Monday. The invitational brings in some of the top pro level kayakers from all over the world for a kayak rodeo and race down Fish Creek. The PL Pro Invitational is held on Monday allowing for a full weekend of river events.
Everyone is invited to come down to the River and celebrate the Yampa in all of its glory.
2010 Yampa River Festival and Paddling Life Pro Invitational Time line: