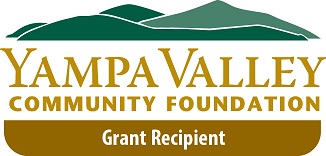 The Friends of the Yampa is proud to announce that the Yampa Valley Community Foundation, as part of their 2015 grant cycle has awarded us with a $5,000 grant as seed money for a Craig Diversion Park project on the Yampa River in Craig, Colorado.
We will be working in partnership with our river friends from Craig, Colorado at the Northwest Colorado Chapter of Parrotheads who along with local river advocates are working to build a river park at the Craig, Colorado municipal water diversion on the Yampa River.
CITYsupport letter The Yampa Valley Community Foundation, in their 2015 grant cycle, issued $190,757.oo to 51 local organizations. This year about 38 percent of funds were given for health and human services initiatives, followed by 23 percent to support education, 16 percent for recreation, 15 percent for arts and culture and 8 percent for environmental causes.
This Craig Diversion Park project is very interesting for all of us in Northwest Colorado as it would bring an additional recreational use of the Yampa River through Craig while enhancing tourism and the overall economy of the area.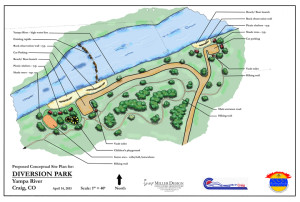 This project has been supported by not only the Moffat County Commissioners (read letter of support) but also the City of Craig (read letter of support), along with Friends of the Yampa and now the Yampa Valley Community Foundation.
We are only in the beginnings of the effort to make this happen.  For those looking to find out more information about this or wanting to donate funds to this, please contact us or get ahold of the Parrotheads and we will earmark funds for this project for you.
This grant from the Yampa Valley Community Foundation is a great start in the planning process to make this Craig Diversion Park a reality.  Thanks again YVCF for being such a great partner.