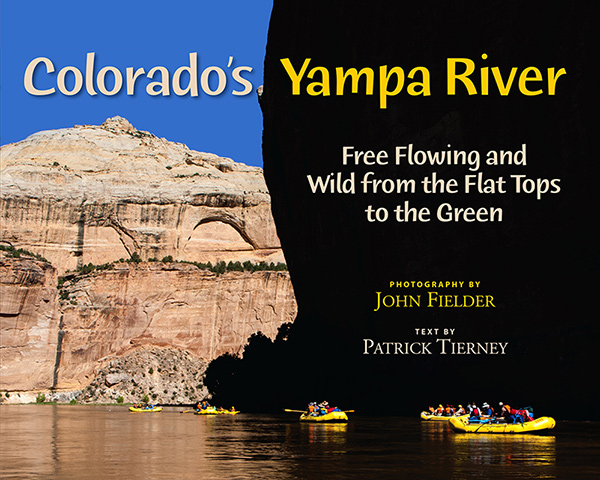 The Friends of the Yampa are proud to have been involved with John Fielder and Patrick Tierney in their effort to make the most complete Yampa River book to date: Colorado's Yampa River – Free Flowing and Wild from the Flat Tops to the Green.
This 172 page, large format hardcover book with 150 scenic, historical, and then & now photographs is a perfect addition to everyone's river library and would make an ideal gift to any and all.  Check out John Fielder Publishing for a direct way to purchase the book.
Patrick has been an integral piece of the Yampa River Awareness Project, our Yampa Canyon float trip that we organize with OARS and American Rivers every year.  Patrick was the longtime owner of Adrift and has been a staunch supporter of everything Yampa River.  During the 2013 and 2014 YRAP floats, both John and Patrick were on the trips and thus spawned the idea to make this Yampa River masterpiece.
"A passionate call to preserve one of the West's last untouched waterways. The story resonates like an epic novel, as the protagonist — the Yampa itself — and its human allies fight to keep these waters "free flowing and wild."  High Country News, 2015
"Tierney tells a poignant and entertaining story about the river. Photographer John Fielder transports you to its hidden canyons and it grand mountain vistas. They have crafted a compelling testament to what makes the Yampa wild and provide strong arguments for keeping it that way." Bob Irwin, President, American Rivers.
"Between Fielder's sublime images of tundra wildflowers, eagles and elk, and the canyons of the Yampa, and Tierney's discourse about the Yampa's human, natural, and political history, you will feel like you are rowing with the authors." Amazon.com
Thanks you Patrick and John for your energy and support for spreading the good word about Colorado's Yampa River.